Each year the Law Society recognizes organisations and individuals that provide excellence in the services surrounding the provision of legal services.
The National Centre for Domestic Violence has been shortlisted as a finalist for the Law Society Excellence in Client Service award. This award celebrates commitment and service in client care.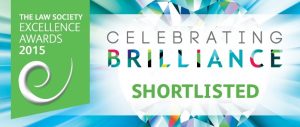 Mark Groves, Head of Operations said "This is fantastic news, our whole team work extremely hard to provide the utmost compassion and care to everyone using our service. Domestic violence and abuse is an incredibly emotive subject and all our staff strive daily to offer the best possible help. To be a finalist in such a prestigious award is recognition of their commitment."
Finalists are traditionally law firms and lawyers but accepting NCDV as a nominee acknowledges that support organisations provide services equally as important. Mark Groves said " With the extreme cuts to legal aid, the upcoming reduction in court space and funding cuts affecting support agencies the services available in our sector are being depleted, we are committed to providing victims with the legal support they require irrespective of their financial position and we will continue to do so, this nomination reinforces and underscores our values."
The awards will be presented on the 22nd October 2015 a full list of finalists can be found on the Law Society web site here.