NCDV have been shortlisted to receive a prestigious award for the Best use of Technology.
Now in their third year, the Eclipse Proclaim Modern Law Awards were launched to celebrate and identify sparkling talent and success in the modern legal services arena.
​These exclusive awards reflect the ever-increasing re-organisation and dynamism of legal service providers. The Modern Law Awards offer a unique and timely opportunity to celebrate not only innovative leaders but those changing the face of strategy and development, regulation management and client care throughout the organisation.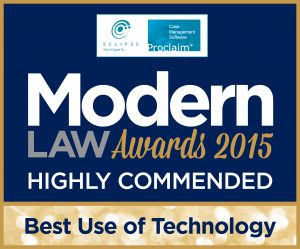 Mark Groves, Head of Operations at NCDV said " The Modern Law Awards reflect how organisations that embrace technology can create innovative solutions to old problems and help the whole legal sector to another level. Our clients are vulnerable victims who are often controlled by abusive partners and for them to take action time is of the essence. Our technology allows us to perform quickly and effectively in these difficult situations."
Mr Groves went on to say " Our team is the driving force behind our technology, without them we would fail, technology cannot solve peoples' problems, people do that and technology helps.", " Even if we don't win just to be recognized at such an event is extremely satisfying and rewarding for the team."
The winners will be chosen by a cross-industry panel of high profile judges and announced at a glittering ceremony at The Hurlingham Club, London on 19th November 2015.