Serving the order is one of the most important processes in obtaining protection from a non-molestation order. If the order is not served or not served correctly then it affords the victim no protection whatsoever and in some cases could put them in more danger. Orders not served correctly if breached will not be pursued by the CPS, leaving the victim vulnerable once again.
Victims of domestic violence and abuse are put through a very stressful period to obtain their injunction and for an order not to be served correctly is a complete waste of their time, resources and emotional turmoil. Not to mention the wasted costs to the public purse.
At the end of July NCDV was presented with a problem, the UKs largest process serving company that provided service to 90% of NCDV's cases pulled the plug on legal aid work. This was set to devastate the very efficient service they had been providing for over 5 years.
NCDV analysed the service they provided, drafted a plan that would not only enhance the service to the victim but would provide solicitors with a superior service level and a large saving to the LAA and launched NCDV ASSIST Process Serving.
ASSIST Process Serving  allows NCDV to tie in great process serving with its award winning ASSIST injunction web portal by bringing all the administration under one internal department.
Mark Groves, Head of Operations said " This is actually a great opportunity to re-evaluate the process serving sector, we will create a team that will provide the best service to the victim and solicitors and we will dramatically reduce the costs to the LAA"
Mr Groves further said " We have over 150 solicitor firms on our panel and hundreds of process servers, the common complaint especially more recently is the lack of guidance from the LAA, we are now in a position to take up some of these issues directly with them to ensure that victims are protected efficiently and cost effectively".
The Head of Contracts at the Legal Aid Agency, John Sirodcar has been in conversation with Mr Groves recently, Mr Groves said " It's terribly frustrating dealing with the LAA to get consistent guidance from them even for relatively simple issues but hopefully working closer with John Sirodcar will facilitate timely guidance, communication is a good thing".
NCDV runs ASSIST Process Serving as a cost neutral part of its organisation, Mr Groves standing on the left below receiving a Law Society Excellence award went on to say " I have taken on this project to take control of the process, process serving is a critical part of the injunction procedure and can't be left to unprofessional practices or inefficient individuals".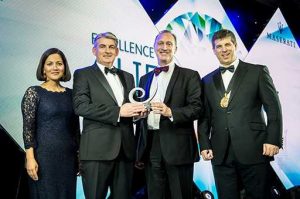 For information on any aspect of NCDV ASSIST Process Serving contact [email protected]