The best legal professionals gathered at the Hilton Hotel Park Lane for the annual Law Society Excellence Awards.
The awards recognise extraordinary firms and individuals across England and Wales in areas such as pro bono, marketing and communications, diversity, client service, business, and human rights.
There were nine winners in the firms categories and seven winners in the individual categories.
The keynote speech was given by Baroness Helena Kennedy QC, and BBC journalist Mishal Husain hosted the ceremony.
President of the Law Society Jonathan Smithers said: 'The Law Society Excellence Awards are a celebration of the outstanding work our members do. We are immensely proud of the profession, its commitment to innovation, to first-rate client service, to business, equality, human rights, and of course to upholding the rule of law.
NCDV was winner of the Excellence in Client Service category.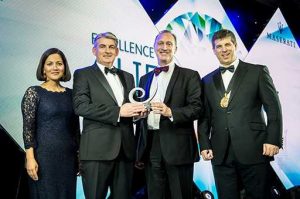 Collecting the award was Mark Groves Head of Operations at NCDV seen here with BBC presenter Mishal Husain, award sponsor Martin Best CEO Document Direct and the Law Society President Jonathan Smithers.
The judges commented "NCDV's innovative client management system can mean the difference between safety and a repeat attack. Using technology to help speed up the injunction process, this pioneering organisation is helping to protect the victims of domestic abuse through outstanding client care."
Mark Groves said " I am absolutely honored to receive this award, to have been shortlisted was fantastic but to win is incredible. Our systems have been designed over many years to provide victims with not only the best legal support but the fastest. Our staff are completely committed to providing the best service and it is them who have made this possible."
Mark Groves went on further and said " This award is a pivotal point for NCDV it is evidence that from humble beginnings an organisation with the right drive, determination, people and mission can develop into a national support service helping thousands of vulnerable people. I am extremely proud to be a part of this."