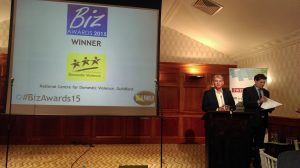 NCDV receive award for best Customer Focus.
This award recognises an organization that seeks to engage with their clients, with a focus on listening to and providing the support they need.
The BIZ awards are open to companies, charities, community interest and not for profit organisations, who compete across nine different sectors and are a recognition of best practice and success in their sector.
Mark Groves our Head of Operations who collected the award at Pennyhill Park in Hampshire said "It's just a fantastic recognition. Because of what we do, we tend not to shout too loudly, so this gives us an extra boost", "Our staff are what makes us excellent at what we do and I know they will be thrilled".